Customer Service
Customer service is defined as an organization's ability to supply their customers' wants and needs. At Carney All Seasons, we take customer service to a whole new level. We are dedicated to providing you with the highest level service backed by our quality workmanship guarantee. Whether it is one of our friendly technicians performing work within your home, one of our personable customer service representatives scheduling a service appointment with you, or a conversation with our owner himself, you will quickly see why our focus on a higher level of customer service is simply unsurpassed. You can rely on the staff at Carney All Seasons and our outstanding reputation in the community to provide you with the highest level of quality care in your home.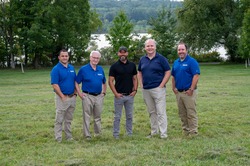 We know that the essence of good customer service is forming a relationship with each and every one of our customers. This relationship is one that our customers feel that they would like to pursue for all of their future plumbing, heating and air conditioning needs. We understand that we will be judged by what we do, and not by what we say, and we are inspired by this. Good customer service is not simply lip service at Carney All Seasons, but rather a strong belief that we stand behind and act upon. We truly believe that our high level of customer service is unmatched.
We understand that if we are going to consistently exceed customers' expectations, we have to recognize that every aspect of our business has an impact on customer service, not just those aspects of our business that involve face-to-face customer contact. We know that improving our customer service involves making a commitment to learning what our customers' needs and wants are, and developing action plans that implement customer friendly processes. This is an important element of our business model that we strive for in our daily business interactions.
Having a plumbing, heating or air conditioning problem is never a convenient thing. It's even worse when it happens at night or on a weekend and you can't get a live person on the phone, let alone someone to come to your home and fix it! No problem for Carney All Seasons customers. We have live people answering the phone 24/7 and technicians available to our customers in their time of need – whenever that time is. Go ahead and put us to the test right now if you would like. Carney All Seasons is always here to help!