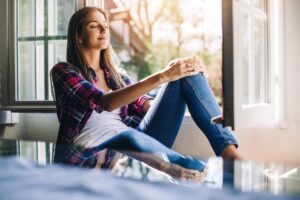 As we head into fall, you'll be switching your thermostat over from cooling to heating. But that doesn't mean it's time to stop thinking about your air conditioner completely quite yet. There are still a few maintenance tasks that you can complete to help your AC as it sits unused over the fall and winter months.
That way when you turn on your air conditioner for the first time next year in the spring, you know that it will work great without any issues. And if you do need to schedule an AC repair in New Hope, PA, our team is always here to help. You can keep reading to learn more about our top three recommendations for your air conditioner this fall, including some signs to watch for that your AC may need repairs.
Turn Up Your Thermostat
Many homeowners keep their thermostat set pretty low in the summer, usually around 70° to 72°. But fall is an opportunity to stay at your thermostat a little bit higher and still enjoy cool air. As temperatures cool down, your air conditioner does not have to work as hard to cool your home because temperatures aren't sweltering.
You can take advantage of the potential energy savings by setting your thermostat higher, and we recommend about 78°. Of course, if warm weather blows back through and you need to lower your thermostat again, you can always do so. But turning your air conditioner up in the meantime so it is not running as often is a great way to give it a break as you head into fall. Plus you'll save on your monthly energy costs!
Check Your Outdoor Unit
Many of us love this time of year because the leaves are changing and we get to enjoy a variety of colors. But as these leaves are falling off of trees, they are posing hazards to your air conditioner. If too many leaves build up around the outdoor unit for your air conditioner, it may suffer. Leaves can block airflow, trapping heat inside of your home and making the air feel warmer and more humid.
But it's also making your air conditioner work harder. When hot air cannot escape through your outdoor unit, your air conditioner begins turning on more frequently or staying on longer in an effort to cool your home. Simply clearing away debris from around your outdoor unit and rinsing it off using gentle water pressure to make sure it's clean can do wonders for how your AC operates.
Schedule Professional Maintenance
But as a homeowner, you can only do so much. There's always a chance that something small is beginning to go wrong inside of your air conditioner that you don't even know about yet. When you invest in professional maintenance with our team of expert technicians, you're also investing in the longevity of your air conditioner.
If something is going wrong now and your air conditioner sits over the fall and winter unused, the problem could worsen by the time you need to turn your AC back on in spring. If our team can tweak your system and make sure it is in excellent condition, your AC can rest easy all fall and winter and you can too. Then when you turn it on for the first time next year, you can do so with confidence knowing that your air conditioner is going to work great all season long.
Carney Plumbing Heating & Cooling does what's right for our customers. Schedule an appointment today for Fall AC maintenance.