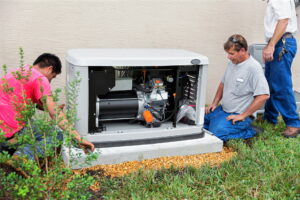 No one wants to think about a bad storm coming through and being without power. But the reality is, it's a definite possibility in our area. Instead of simply hoping for the best, you can take steps to be prepared for the worst.
One of those steps is scheduling an appointment for generator service in Bucks County. A generator is one of the best ways to prepare for bad weather and power outages. You can keep reading to learn more about how to prepare for winter storms and why you want to do so.
Invest in a Generator
Your first step is to invest in a generator for your home. And we're not talking about the portable kind that you can plug a few things into. A whole house generator is the best way to go. You'll get 15 to 20 years of life out of the generator and it will kick on automatically when your power goes out for absolutely any reason. Plus a whole house model can power everything in your home from appliances to lights and even technology you need to plug in and charge.
After all, when a storm is coming through you don't know if you'll be out of power for a few hours, a few days or maybe even longer. It's better to be prepared so your family can stay safe and warm no matter what happens. A whole house generator is the way to do that.
Schedule Generator Service
If you already have a generator, you want to prioritize professional service for the unit. The only way to get 15 to 20 years of life out of your generator is to take excellent care of it. Your generator largely sits unused all year, but when you do need it you want it to turn on and stay on without any hiccups.
The best way to achieve this is by scheduling professional generator service once each year. It gives our team an opportunity to test your generator. We'll look it over and also make sure that if anything is wrong, we can fix it now instead of waiting until there's an emergency. If we have maintenance tips that you can complete in between service appointments, we can talk to you about them and walk you through the steps.
Schedule Other Annual Maintenance Appointments
You also want to schedule annual maintenance appointments for other services and appliances in your home. Your generator is not the only thing working to keep you comfortable when the power goes out, although it is important. If your heater is having problems, then a great generator won't matter. 
You need to schedule annual service for your heater to make sure that any issues are addressed sooner rather than later. It's also important to schedule service for your gas lines to make sure that they are secure. Preventative action is always cheaper and easier than waiting for something to go wrong and fixing it then. If a storm does roll through this winter and you lose power, you will be very glad that you took steps ahead to prepare.
Carney Plumbing Heating & Cooling does what's right for our customers. Schedule an appointment today for generator service.