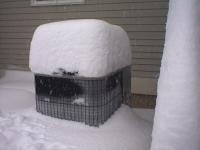 Due to recent excessive snowfall, we wanted to pass along a few tips for our customers who own heat pump systems.
1. Heat pumps draw air from the areas surrounding them (all four sides of the outdoor unit). It is important to clear these areas of snow and ice build up in order to allow air to freely reach the heat pump. This will allow the heat pump to operate as efficiently as possible and will alleviate strain on the heat pump.
2. If possible, the space (air gap) between the heat pump and the plastic or concrete pad that the unit itself sits on should be cleared of snow to allow for drainage. Customers who have had heat pumps installed by Carney will note that there are two concrete lentels (rectangular blocks of concrete) that sit on either side of the base of the heat pump. The area between those lentils is the area that should be cleared.
3. Generally speaking, most heat pumps discharge air in an upward direction from the top of the unit. It is important to make sure that this area is clear of snow and ice to allow air to easily discharge (this is the air that is being drawn from the sides of the unit noted in item #1).
A note to Carney customers for whom we have installed a Trane XLi heat pump system: Trane's XLi series heat pumps employ a "Weathergaurd" top that is designed to protect the heat pump from the affects of snow and ice on the top of the unit. In most cases snow and ice on the top of the unit will have no impact on an XLi heat pump. Air is discharged from the sides of the upper part of the heat pump instead. This area can be distinguished from the intake area as it is a) darker in color, b) plastic as opposed to steel, c) has a wider air gap between the fins and d) the direction of the louvers points upwards at an approximate 45 degree angle as opposed to downwards at the steel louvers. We have installed several hundred of Trane's XLi series heat pump each year since 2003, so there is a good chance that you may own one – which is very beneficial at this time!
To help you identify if you own a Trane XLi heat pump, the following link will take you to an image of a Trane XL20i, which employs the same "Weathergaurd" top found on Trane XL16i, XL15i, XL14i and XL13i. http://www.trane.com/Residential/Products/Heat-Pumps/XL20i-Heat-Pumps
4. DO NOT attempt to forcefully remove ice build up from any part of the heat pump. If you cannot remove snow or ice easily with a broom or brush, do not try to pry or chisel ice from the unit. Doing so could cause severe or irrepairable damage to the heat pump.
5. If your heat pump is located in an area that is subject to exposure to melting snow and ice (such as underneath an overhang or gutter that may be frozen), check the unit repeatedly to ensure that ice has not built up inside the heat pump.
6. If you cannot clear the heat pump of snow and ice for any reason, switch the system to "Emergency Heat" at the thermostat. This will turn the heat pump off and engage electric resistance heaters that are located inside in order to provide heat for your home. This is a more expensive mode of operation for a heat pump system, so we do not advise continuing in this mode for more than a few days. If at that time, the snow and ice around the heat pump has not melted, feel free to schedule a service call with Carney and a technician from our service team will be happy to assist you.
Finally, if you are a geothermal heat pump owner – you have nothing to worry about! There is no outdoor unit, so there is no concern of snow or ice!
As always, feel free to contact us with any questions or concerns at 215.822.9029.