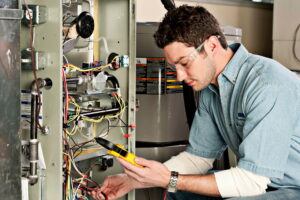 When you first installed your furnace in your home, it was a hefty investment. When you spend that much money on something, you want it to last. And in order for your furnace to have a nice long lifespan, you have to invest in regular maintenance. This includes both steps you take as a homeowner as well as maintenance from certified HVAC professionals. 
When your Trane furnace starts showing signs that something is wrong, it's time to schedule a heater repair in Montgomery County. You can keep reading to learn more about the benefits of having a professional work on your heater instead of attempting DIY repair projects.
Customized Care
Each different brand of HVAC system has unique qualities that set it apart from other brands. Trane is known to be one of the highest quality HVAC systems you can get for your home. Because of this, you want to invest in specialized care for your Trane furnace.
You want a team of professionals who are familiar with the Trane brand to complete any maintenance or repairs that your furnace needs. Our team doesn't just complete general HVAC training. We understand Trane systems specifically so we can help meet their unique maintenance needs.
Prioritizing Safety
Investing in professional maintenance is also a great way to make sure that safety is top of mind. You may be tempted to search online for a do-it-yourself solution to whatever you think is wrong with your Trane furnace. However, we advise against this. We also encourage you to check the credentials of anyone offering to work on your Trane furnace.
Well-meaning friends and family members may offer to help, but they shouldn't work on your furnace – or any furnace – without the appropriate certifications. In fact, it's against the law for anyone to work on a furnace without the proper training and education. These requirements are in place to protect you, your home, and your family. When you have a certified professional working on your Trane system, you know that your furnace will be safe to use all fall and winter long.
Overall Comfort
Professional maintenance is also a great way to elevate comfort. Because we work on Trane systems day in and day out, we are very familiar with how the furnaces work. We can usually spot small problems that might otherwise go unnoticed and lead to more significant issues down the road. When we catch the small problems earlier, they have less of an opportunity to negatively impact how your furnace operates. This means that your furnace has a better ability to heat your home effectively and efficiently.
System Longevity
And maintenance is not just about the short-term benefits. You also want to consider the entire lifespan of your furnace. Your Trane furnace has the potential to last for 30 years, if not longer. But the trick to a very long lifespan is consistent professional care. When you prioritize maintenance appointments year after year, you're investing in the long game. Your furnace won't face as many major problems when you schedule appointments with our team and we help you by fixing the smaller problems before they get out of hand.
Carney Plumbing Heating & Cooling does what's right for our customers. Schedule an appointment today for your Trane furnace.